Questions and answers
---
Bulanci will be free. What does it mean?
Starting 1st September 2023, everyone can download Bulanci on Steam for free and enjoy the multiplayer with friends from around the world. If you are interested in further bonus content, you will be able to purchase it.
I already bought the game on Steam. What's in it for me?
If you already purchased the Steam version, you will get all the bonuses released for Bulanci after 1st September for free. And there will be a lot of them! We are grateful for your support, and believe us that we will show you our appreciation.
What if I purchase Bulanci now?
If you purchase the game on Steam by 31st August 2023, you will be guaranteed to receive all the free content as well. Money-wise, this is a more favourable variant than buying the bonuses subsequently.
I am a crowdfunding backer. What bonuses will I get?
You will receive all current and future bonuses from us, as well as an exclusive access to not-yet-released stuff. Also, we are preparing something extra as a reward for your support, to be made available only to our backers. The new Bulanci game was possible only thanks to your support, and we will never forget it.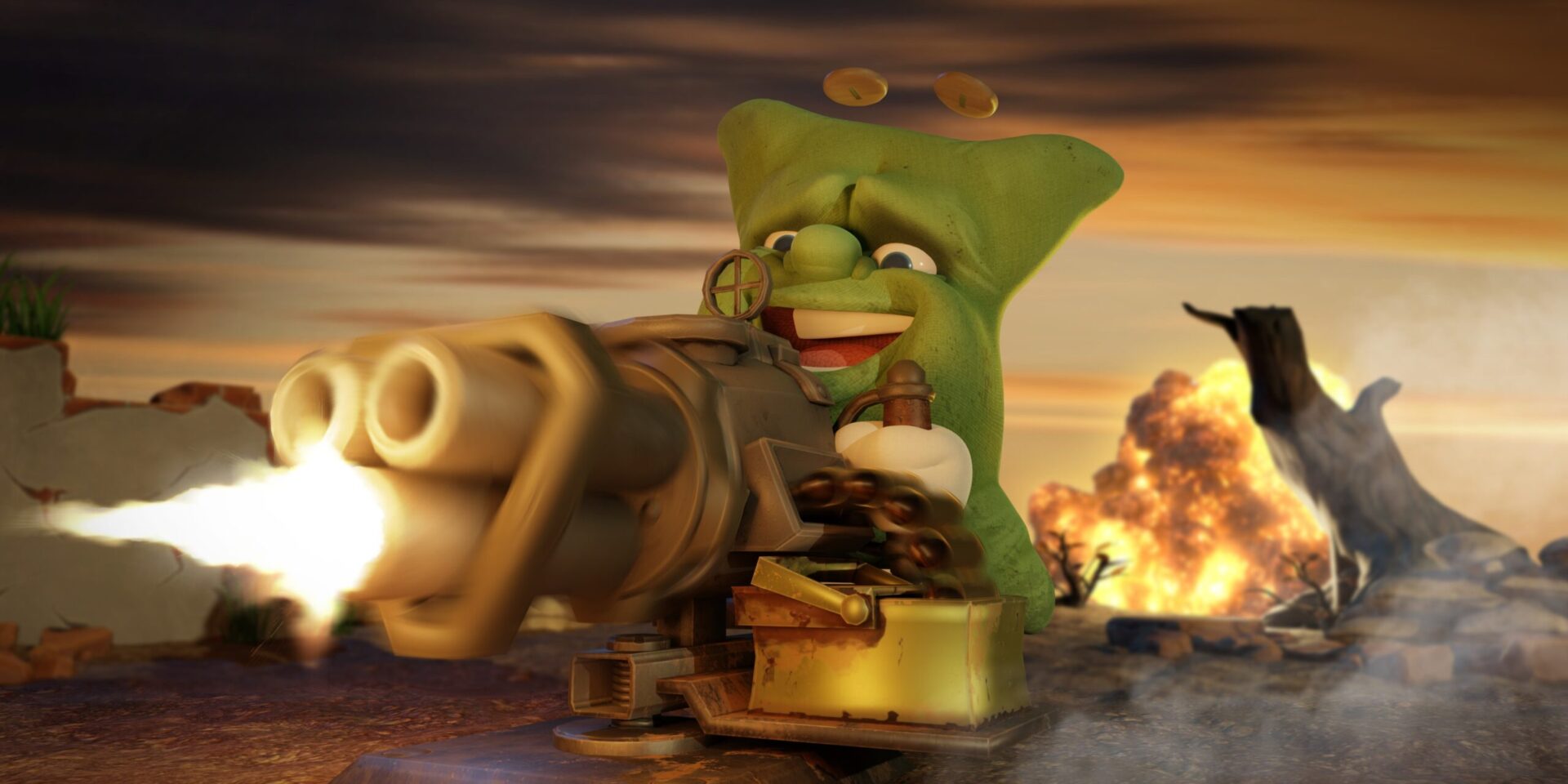 What will the free version of Bulanci include?
Online Multiplayer
This is a must for Bulanci. You can test your skills against your friends and players from all over the world. You can arrange matches on our Discord: https://discord.gg/hRuef9ar64
Game Modes
Apart from the base free-for-all mode (Deathmatch), you can choose to play teams (Team Deathmatch) or try the Capture the Flag mode. We also plan to release new modes such as the Prison Break and many others.
4 Game Levels
The game will include three environments from the original game (Fairy-Tale, Factory, Disco) and a completely new one (Kids' Room), where Bulanci can access different levels, so that the fighting can get more vertical. Also, the moving toy train allows Bulanci to shoot in more directions.
Weapons
Five familiar weapons will help you fight your enemies. A classic elegant pistol with a silencer, which will hurt your opponents, but not your feelings. A light machine gun for those who are not afraid (or those who are?). A shotgun for an uncompromising exchange of opinions. A mine for those with a good memory. And a rocket launcher for those who can handle it. 🙂
Game Stats and Leaderboards
Have you always wanted to know who the best Bulanci player in the world is? Believe us, so have we. And now, we've got the first chance to find out who is really great in the game. Bulanci will now include statistics and leaderboards where only the best can succeed. Are you one of them? Will your name show up among the most elite players?
Bulanci History
We will release more videos on Bulanci history, to add to the current ones. You can look forward to two more in the near future. You will see unique footage from the Bulympic Games and find out the truth about the conquest of the North Pole. The base version of the game contains a total of 7 scenes and 5 history videos.
But that's not all. We will continue to enhance the base game with gradual updates as well, so you can look forward to more content. In one of the next updates, we will add the Elite Training, which will see the return of the single-player training with favourite bonuses, such as invisibility, extra time, or invulnerability. We are also working on more weapons. How about a sniper rifle or a sticky-mine launcher?
What can you expect in the future?
The base version of the game will be fully-fledged, and you won't need anything more to annihilate your opponents. If you want to expand Bulanci with new environments, the Brutal mode, the campaign, or the editor, you will be able to purchase the additional pack – roughly for the price of a single coffee.
Those of you who supported us via crowdfunding or bought the game on Steam by 31st August 2023 will receive this additional content for free.
Hero Factory
The Hero Factory, where you can choose the right pattern and colour for your Bulanci. You can highlight the nature of your killer pillow with sunglasses, an eyepatch, a baseball cap, or leather gloves, to name but a few.
Map Pack
Have you played some maps too much? No worries! Before you can create your own battlefields in the editor, we've prepared another pack of sophisticated battle arenas for Deathmatch and Capture The Flag for you. This will certainly keep you busy for a time.
Maze
The maze is treacherous. In order to beat your opponents, you must find the way to the right corridor first. Fortunately, there are channels here, which work like "dirty" teleports. But beware, some walls tend to move, and sometimes, the fuses go out, too. They say that at such times, a malevolent robo-cat comes out, which cannot be destroyed easily.
Ice Land
It's cold, it's slippery, and when you shoot, a sharp icicle may fall on you. Or the ice may break under your feet, making you fall into freezing water, which instantly turns you into an exhibit for a museum of natural science. What is it? Precisely: it's the land of eternal frost where Bulanci face all kinds of hazards, with the possible exception of hypothermia – they have amazing feather insulation, after all.
Level Editor
So, when will you be able to create your own maps? Sooner than you think. That is, we've been using the editor from the very beginning – we just need to adjust it a bit so that it's more pleasant and easy to use. We cannot wait to see your amazing creations.
Brutal Mode
Do you miss the rabbit? Do you grit your teeth because of the insidious mouse's white flag which robs you of satisfaction? And how come Bulanci don't bleed? The Brutal mode solves all such shortcomings. From now on, we recommend you to play in wellingtons.
Battlefield
What does a frontline pillow fight look like, anyway? You can find out in the Battlefield environment. Falling aerial mines, inhospitable blizzards which slow down your progression unless you hide in the trenches, and a rotary heavy machine gun with unlimited ammo to boot! Who controls it becomes the king of the battlefield.
Lazareth
Where do Bulanci who were only injured in the battle go, anyway? Well, to the Bulanci lazareth, of course. A hospital environment doesn't have to be as sad as you might think. You can make great fortifications in some rooms, the vending machine in the corridor will offer you any ammo for your weapons, the swivel chairs allow you to shoot in all directions, and you can also take a ride in a wheelchair which literally covers your back.
Jungle
If you know Bulanci well enough, you know that the jungle forced the players to be careful, and it still stands. You need to be fully aware of where everyone is hiding, because each rustle of a leaf can mean something. The grass can hide a snake or even a buried opponent, and from time to time, the annoying rain starts to fall which slows you down and makes parts of the map so muddy you'd probably best stay away.
Space Station
Bulanci are out of this world, literally. The orbital station in space is an unpredictable and treacherous environment. It can easily happen that the gravity stops working out of the blue or that some prankster opens the airlock which sucks all the feathers into space. Not to mention what happens when you cross one of the cleaning robots…
Campaign
What's the deal with the incessant fighting among Bulanci, anyway? What does each faction fight for and why can't they make peace? You can learn all these answers in the story campaign, which lets you play as one of the privates. You're in for a hard training as well as missions to make your head spin, and perhaps you will get the chance to end this eternal strife once and for all. What is more, the campaign allows you to change the number of players anytime, unlock more game modes, and… all in all, the campaign will bring a lot of fun.
It doesn't have to end here. If you play and enjoy Bulanci, we will gladly keep creating more environments, new weapons and further surprises for you.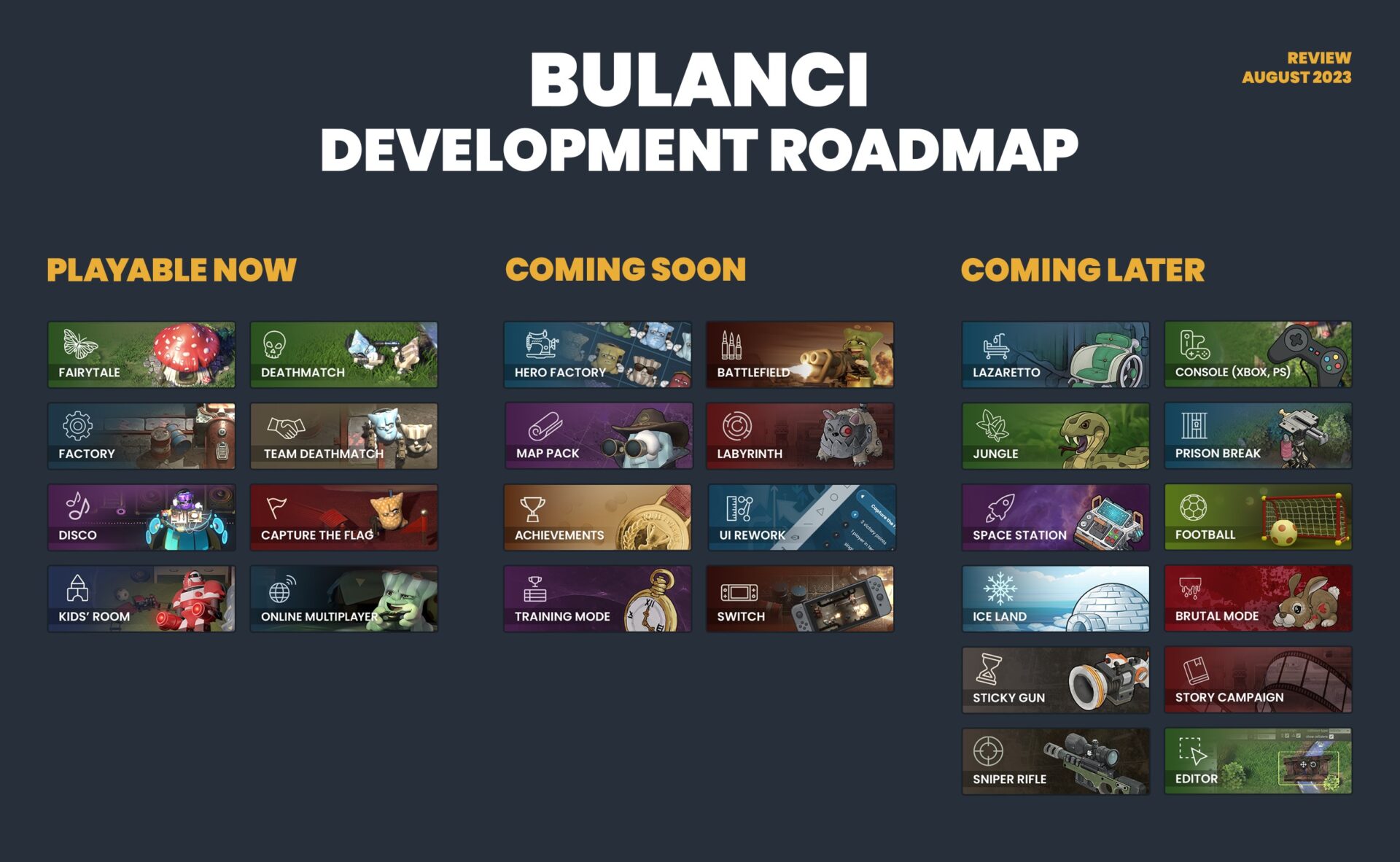 Do you want to receive our updates among the first?
Our irregular spam from the world of Bulanci informs you every time something important happens. If you don't want to miss any news and advantages we prepare for our fans, you can subscribe here: https://bulancigame.com/newsletter/
All backers from Startovac receive this newsletter automatically. If you supported us or subscribed to our newsletter, but you don't get it, please contact us at info@bulancigame.com